27.06.2017 | Ausgabe 6/2017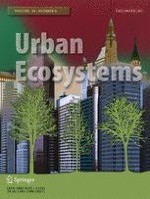 Urban environments are associated with earlier clutches and faster nestling feather growth compared to natural habitats
Zeitschrift:
Autoren:

Kristen L. D. Marini, Ken A. Otter, Stefanie E. LaZerte, Matthew W. Reudink
Abstract
Urbanization creates new habitats with novel benefits and challenges not found in natural systems. How a species fares in urban habitats is largely dependent on its life history, yet predicting the response of individual species to urbanization remains a challenge. While some species thrive in urban areas, others do poorly or are not present at all. Mountain chickadees (
Poecile gambeli
) are year-round residents of montane regions of western North America. Commonly found in higher-elevation coniferous forests, these birds can also be found in urban areas where they will regularly visit bird feeders and nest in nest boxes. We monitored mountain chickadees nesting along a habitat gradient, from natural habitat to suburban areas, to determine if the degree of urbanization was associated with: clutch size and success; nestling growth rates; or variation in parental size and age. Females nesting in urbanized areas initiated clutches earlier in the breeding season than those in natural areas, but neither fledging success nor the rate of nestling mass-change differed between habitats. Nestling feather growth-rate increased with later first egg dates in both habitats, and the magnitude of this increase was greatest in urban habitats. We found no difference in the proportion of first-time breeders versus experienced breeders between habitat types, nor any differences in male or female mass or size. Our results indicate no detriment to nesting in urban habitats, suggesting mountain chickadees are able to adapt to moderate urbanization much like other members of the Paridae family.