17.02.2018 | Ausgabe 4/2018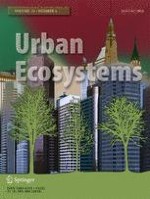 Urban park area and age determine the richness of native and exotic plants in parks of a Latin American city: Santiago as a case study
Zeitschrift:
Autoren:

Javier A. Figueroa, Sergio A. Castro, Margarita Reyes, Sebastián Teillier
Abstract
Plant diversity and composition in urban parks is determined by socio-economics, environmental, and ecological drivers. These drivers give rise to urban spaces with unique compositions of flora, consisting of planted and spontaneous species. The present study aimed to determine the contribution of native and exotic species in urban parks of a Latin American city, and to assess the related role of park area, age and socio-economic status. We also evaluated administration type (public or private) and the effect of environmental factors on plant richness. We hypothesized that the composition of park vegetation differs according to urban-rural gradient. To determine flora composition, two transects (100 m long by 1–3 m wide) per park were selected in 49 parks. In each of these, we identified all the vascular plants found (woody and herbs, planted and spontaneous), which were then classified as native or exotic. We conducted ANCOVAs in order to determine the effect of five independent variables and one factor, on native and exotic plant richness. Of 550 recorded species, 16.2% were native and 83.8% exotic. Number of plant species per park varied between 42 and 146. The parks are known urban habitats containing the highest planted and spontaneously occurring exotic diversity in the city of Santiago, contrasting with other types of habitats. Likewise, parks in Santiago are habitats with low levels of planted and spontaneously occurring native diversity, compared to the parks of Europe, America North and Asia. Ours results show that park area and age affected native plant richness, while exotic plant richness was determined only by park age. We rejected all other possible drivers. Finally, according to the low frequency of native species, we propose that Santiago's parks could be gradually reoriented towards
ex-situ
conservation of native plants.