19.04.2017 | Original Paper | Ausgabe 12/2017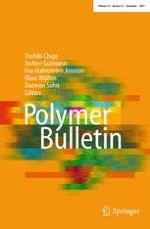 Use of apple seeds as new source for synthesis of polyacrylonitrile-based adsorbent to remove Pb(II)
Zeitschrift:
Autoren:

Dongcheng Yang, Lili Yu, Hou Chen, Yanbo Yu, Yuanyuan Xu, Jinming Sun, Yating Wang
Abstract
Bromoactylated apple seeds (BAS) was used as new source for the synthesis of environmental adsorbent. Apple seeds were modified by bromoacetyl bromide to obtain a macroinitiator for single electron transfer-living radical polymerization (SET-LRP) of acrylonitrile (AN). The amidoxime (AO) adsorbent was prepared by the reaction of the graft copolymer bromoactylated apple seeds (BAS)/polyacrylonitrile (BAS-
g
-PAN) with hydroxylamine. Amidoxime BAS-
g
-PAN (AO BAS-
g
-PAN) was used to remove Pb(II) and the maximum adsorption for Pb(II) was 1.58 mmol/g. AO BAS-
g
-PAN could also selectively adsorb Pb(II) from binary ion systems in the existence of Ag(I), Ni(II) and Zn(II). This efficient modifying approach provides a new powerful mean toward filling the gap on apple waste as a potential source for controlling heavy metal pollution.