15.09.2018 | Ausgabe 5-6/2018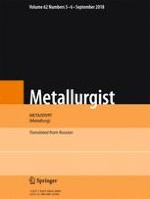 Use of Directional Solidification for Improving Tubular Workpiece Quality of Different Cast Irons
Zeitschrift:
Autoren:

V. F. Bevza, V. P. Grusha, V. A. Krasnyi
Wichtige Hinweise
Translated from Metallurg, Vol. 62, No. 6, pp. 36–44, June, 2018.
A new efficient method of casting tubular billets by directional solidification without the use of a core is proposed making it possible to obtain a fine-grained dense structure of cast iron due to intensive onesided heat removal and excess supply to the solidification front of superheated liquid phase during the entire billet formation time in a metal water-cooled mold (crystallizer). It is shown that the method makes it possible to obtain a prescribed final cast iron structure by creating a certain cooling regime for castings outside the mold. In the positive effect of directional solidification of the melt inherited by iron a decisive role is played by the formation of a dense structure and a more dispersed carbide eutectic with a favorable carbide morphology, which determines the good cast iron wear resistance. The results of studies confirm that the new casting method provides production of workpieces with a prescribed phase composition and improved physical, mechanical, and operating properties. The effect is considered of various factors of the formation of workpieces from different types of cast iron: gray alloyed with lamellar graphite, high-strength and high-chromium, and also Niresist cast iron, on the structure, properties and service life of components for critical purposes of general, mining and oil refining engineering.