14.09.2018 | Ausgabe 5-6/2018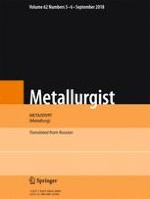 Use of Electrolytic Zinc Powder for Cementation of Gold from Cyanide Solutions
Zeitschrift:
Autoren:

S. A. Yakornov, K. D. Naumov, V. G. Lobanov, P. A. Kozlov, Ya. D. Zelyakh, I. M. Krutikov, D. Yu. Skopin, D. A. Ivakin
Wichtige Hinweise
Translated from Metallurg, Vol. 62, No. 5, pp. 50–55, May 2018.
Features of gold cementation from cyanide solutions with electrolytic zinc powder are studied. The test powders are prepared by electro-extraction of alkaline solutions after leaching zinc-containing dust. Cementation is conducted in two regimes: under pressure (Merrill–Crowe process) and a fluidized bed regime. It is established that with respect to degree of gold extraction and specific consumption of test dendritic powder it is no worse or surpasses powders prepared by vapor condensation used traditionally in the gold extraction industry. The features established may be explained by physical features of powders prepared by electro-extraction from alkaline solutions.