01.04.2006 | Paper | Ausgabe 4/2006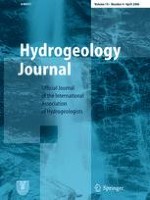 Use of remote sensing and GIS to determine recharge potential zones: the case of Occidental Lebanon
Zeitschrift:
Autoren:

Amin Shaban, Mohamad Khawlie, Chadi Abdallah
Abstract
Water recharge from land surfaces into subsurface media is an essential element in the hydrologic cycle. For a small-scale assessment, experimental approaches are usually followed, however, on a regional scale, this assessment needs to be made into a comprehensive picture where spatial data of the different contributing factors are treated. The case of Occidental Lebanon, with an area of around 5,000 km2, was studied by the integration of all factors influencing this hydrologic process. Contributing factors are: lineaments and drainage frequency density, lithologic character, karstic domains and land cover/land use. The determination of these factors was carried out mainly by the application of remote sensing. Satellite images (Landsat 7 ETM & SPOT) and aerial photos were subjected to several treatment processes using a miscellany of software, mainly ERDAS Imagine and ESRI's Arc View software. Furthermore, exogenetic data, such as topographic and geologic maps, were utilized. The extracted information for these factors was plotted on maps. The integration of the maps in a GIS allowed deciding their interactive effects. However, each factor had its own degree of effect, i.e., weight, which was also determined in this study.
This study is an approach to better estimate and provide qualitative assessments of recharge potential (RP). The resultant map shows the highest recharge potentials towards the elevated regions where karstification is well development. It was found that around 57% of the study area is terrain with very high to high recharge rate values, which a considerable amount of precipitated water is allowed to percolate into subsurface rocks.