2015 | OriginalPaper | Buchkapitel
13. User Empowerment and the I-doc Model User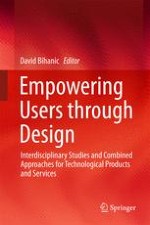 Erstes Kapitel lesen
Autoren: Samuel Gantier, Michel Labour
Abstract
This chapter examines how designers formally portrayed the "target" user of an interactive documentary (i-doc) within a dynamic team design process. Our initial research postulate was drawn from Umberto Eco's (
1989
) theory of textual cooperation. This enabled us to hypothesize that the inevitable preconceptions of each member of the i-doc design team would lead to a, more or less conscious, creation of a "Model User". A corollary to the hypothesis was that the traits of the Model User would tangibly influence the way in which an i-doc was effectively presented to Internet users. To examine this hypothesis, in terms of its empowering possibilities for Internet users, we conducted a case study analysis of an i-doc, produced by a French public broadcaster, called
B4, fenêtres sur tour
(
B4, Windows of a block of apartments
). We used an ethnographic participant-observation approach that identified three complementary dimensions of the Model User:
exogenous
,
interactional
and
empowering
. These dimensions highlight how the different agendas of the
B4
design team led to the creation of a "composite" Model User that guided the sociotechnical development of the i-doc. The impact of a, more often than not, implicit Model User on design choices puts the spotlight on the empowering role and place of Internet users and how they make sense of an i-doc. The study opens up a number of research and design avenues in how to formally portray and produce empowering user-centered i-doc design.