2019 | OriginalPaper | Buchkapitel
User Innovation, Lead Users and Crowdsourcing for the Design of New Products and Services: Why, What and How?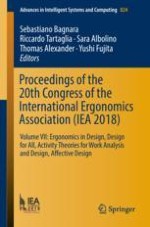 Erstes Kapitel lesen
Autoren: Jean-Marc Robert, Masood Maldar, Mitra Taraghi, Ahmed Seffah
Abstract
The goal of this study is to examine new paradigms, approaches, methods and tools that can help Prospective Ergonomics (PE) in its dual mission of defining current and future needs of users/customers and creating innovative products and services. After exposing the highlights of the PE that serve as a framing for our study, we present and analyze three powerful concepts that can guide PE: User innovation, Lead users, and Crowdsourcing. The theme of User Innovation comes from the research of von Hippel initiated in the 70's, which is at the origin of a paradigm shift in the field of innovation. His research, confirmed by several other researchers, showed that "a large part of the innovations of products and services was the outcome of the users rather than the manufacturers". Lead users are "users of a product or service that currently experience needs still unknown to the public, and who are positioned to benefit significantly by obtaining a solution to their needs". Included are users at the leading edges of the target market of a product or service, and users in other markets that do similar activities or face similar problems in a more extreme form. Finally crowdsourcing, which existed long before the digital age, is "a type of participative online activity in which an individual or a firm proposes to a group of individuals, via a flexible open call, the voluntary undertaking of a task". One main field of application is the production and selection of innovative ideas. Finally, we present four new social-media crowdsourcing tools: UXModeler, Crowdboard, CrowdUX and SortedCrowdUX, as well as two cases of successful use of crowdsourcing in banking and industry.