2017 | Supplement | Buchkapitel
Using a Mixed Analysis Process to Identify the Students' Digital Practices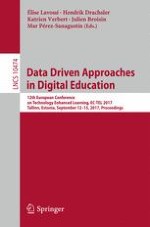 Erstes Kapitel lesen
Autoren: Laëtitia Pierrot, Jean-François Cerisier, Hassina El-Kechaï, Sergio Ramirez, Lucie Pottier
Abstract
Our work is focused on young users' digital behaviors, specifically during instrumented learning activities. Social sciences researchers mostly consider these behaviors through a central yet polysemic concept, the "digital practices".
In this paper, we introduce a new definition of the "digital practices" based on a literature review that led us to formalize it through a model. To identify and analyze the young users' practices, we use a data-driven approach. We propose an analysis model, which uses a prescriptive observation method. The model includes two different kind of data to identify the digital practices and its components: usage tracking logs and students' interviews.
The two goals we pursue from the data analysis are, on the one hand, to provide indications on the students' practices to adjust digital educational policies carried out. On the other hand, we aim to identify the generic characteristics of our analysis model and use it on other contexts.
Our approach has been validated by a first experimentation involving students enrolled in a French high school. In this paper, we focus on the general analysis process, from its definition to its operationalization.