2013 | OriginalPaper | Buchkapitel
Using Ant Colony Optimization (ACO) on Kinetic Modeling of the Acetoin Production in Lactococcus Lactis C7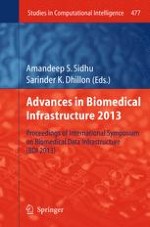 Erstes Kapitel lesen
Autoren: Nor Farhah Binti Saidin, Chuii Khim Chong, Yee Wen Choon, Lian En Chai, Safaai Deris, Rosli M. Illias, Mohd Shahir Shamsir, Mohd Saberi Mohamad
Verlag: Springer Berlin Heidelberg
Ant colony optimization (ACO) is a population-based meta-heuristics that can be used to find approximate solutions based on ant's behavior patterns for solving difficult combinatorial optimization problems. To apply Ant colony optimization (ACO), the artificial ants incrementally build solutions by moving on the graph as their results. The solution construction process is stochastic and is biased by a pheromone model. It is a set of parameters associated with graph components which either nodes or edges whose values are modified at runtime by the ants. Best value of kinetic parameters from the experimental data can be obtained by implementing the ant colony optimization (ACO). Model development that can represent biochemical systems is one of the hallmarks of systems biology. Scientists have been gathering data from actual experiments but there is a lack in computer models that can be used by scientists in analyzing the various biochemical systems more effective. However it is also time consuming and expensive and rarely produce large and accurate data sets when carried out in wet lab. Parameter estimation is used to adjust the model to reproduce the experimental results in the best possible way for a set of experimental data.
Lactococcus Lactis C7
will be used as the dataset and functions as the benchmark dataset for the experiments. The results were gathered by conducting some steps in SBToolBox. The result and discussions sections which include the comparison on the performances in term of computational time, average of error rate, standard deviation and production of graph. ACO shows a better result compared to the other algorithms like Simulated Annealing (SA) and Simplex algorithms. The method used in this research also can be used for other datasets as well.