01.08.2016 | Ausgabe 2/2017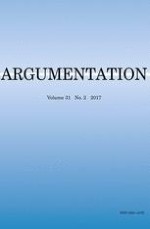 Using Argumentative Tools to Understand Inner Dialogue
Zeitschrift:
Autor:

Sara Greco
Abstract
The starting point of this paper is the acknowledgement that individual reasoning, understood as inner dialogue, and social argumentation, albeit they are two different phenomena, share some similarities. On this basis, this paper sets out to apply instruments from argumentation theory (in particular, in a pragma-dialectical perspective) to inner dialogue in order to better explain it. Within this framework, some limitations to the study of inner dialogue are also discussed; and methodological suggestions are provided in order to grasp what could be considered data on "inner dialogue" starting from social research interviews. The ultimate aim is to go beyond a mere recognition of a similarity between inner dialogue and argumentation and start analysing inner dialogue empirically using tools from argumentation theory. The findings show that the
analytic overview
help shed light on how inner dialogue within processes of individual decision-making develops and what it means to have an internal difference of opinion, in which one and the same person adopts opposing standpoints and argues for them. On the opposite, it is shown that the notion of
strategic manoeuvring
per se cannot be applied to inner dialogue.