2015 | OriginalPaper | Buchkapitel
10. Using Climate and Crop Simulation Models for Assessing Climate Change Impacts on Agronomic Practices and Productivity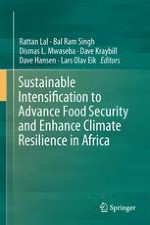 Erstes Kapitel lesen
Autoren: Winfred B. Mbungu, Henry F. Mahoo, Siza D. Tumbo, Frederick C. Kahimba, Filbert B. Rwehumbiza, Boniface P. Mbilinyi
Abstract
Due to heavy dependence on rain-fed agriculture, most developing countries, particularly Sub-Saharan Africa including Tanzania, are likely to suffer negatively to the impacts of climate change. Future climate projections predict a 2–4 °C rise in temperature by 2100, and rainfall is expected to decrease especially in the interior regions. As a result, grain production is predicted to decrease, and particularly maize, which is the main cereal crop, will experience up to 33 % decrease in yield. To capture the impacts of climate change relevant to agronomic productivity, site-specific assessments are needed to inform adaptation options. This study investigated the impacts of climate change on maize production using outputs of Global Circulation Models (GCMs) and crop simulation models. Current conventional and recommended agronomic practices in Same District, Kilimanjaro region, Tanzania were simulated by Agricultural Production Systems sIMulator (APSIM) model using long-term and projected future climates. Four maize cultivars commonly used in the study area
Situka
,
Kito
,
Sc401
, and
TMV1
were used. Results show a yield decline of 13 % for cultivar
Situka
, and an increase of 10 % and 15 % for cultivars
Sc401 and TMV1
, respectively, in the long rainy season (March-May) under the conventional practices. A yield increase of 10 % is projected for
Sc401
and
TMV1
and a decrease of 10 % for
Situka
and 45 % for
Kito
cultivars under recommended practices. The short rainy season (October–December) is projected to register yield increases of between 75 and 146 % for all cultivars under both conventional and recommended agronomic practices. Generally, the study has revealed that the yield of only some maize varieties are expected to decrease due to a 2 °C rise in temperature and only during the long rainy season. Therefore, there is a need for more site-specific climate change studies that evaluate several crop varieties grown in the area.