Erschienen in: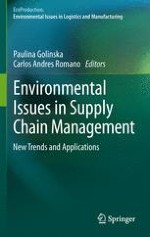 2012 | OriginalPaper | Buchkapitel
Using Environmental Demands to Improve Supply Chain Performance
Abstract
This chapter presents GRAIMOD a tool for supporting GRAI Methodology. This tool is used for managing Enterprise and particularly Supply Chain performance improvements. In addition to the main performance criteria, social, societal and environmental dimensions will be used for finding the optimum of the enterprise. A detailed example will be given for illustration. The originality of this chapter is the definition of carbon footprint (management) as a new performance criterion. The future supply chain has to integrate this new dimension. The example presented also studies the possibility of using the tramway for transporting raw materials and products in a city.