01.08.2019 | Focus | Ausgabe 11/2020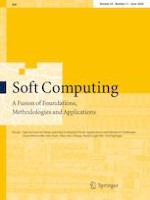 Using grey relational analysis and grey integrated multi-objective strategy to evaluate the risk factors of falling of aboriginal elders in Taiwan
Zeitschrift:
Autoren:

Hsiao-Ching Huang, Tsai-Fu Tsai, Yi-Maun Subeq
Wichtige Hinweise
Communicated by Mu-Yen Chen.
Publisher's Note
Springer Nature remains neutral with regard to jurisdictional claims in published maps and institutional affiliations.
Abstract
Aboriginal elders falls have been a widely discussed topic; however, factors such as emotional and physical functions, and social and cultural backgrounds are lacking. Most studies focusing on fall correlations concentrate on medical institutions or non-tribal community areas. Few studies focus on falling of elders in mountainous areas. Applying grey relational and multi-objective decision making to predict the prevalence of falls and associated risk factors for aboriginal elders is the purpose of this study. We targeted the Atayal and Tsuo aboriginal elders in central Taiwan, involving 160 members settled in mountainous townships in Taiwan. For this research study, the components are as follows: The grey theory predicts and evaluates the commonly used fall risk assessment tools, that is, quantative questionaires include: (1) focused history: medication history and Brief Symptom Rating Scale questionnaire, BSRS-5; (2) functional Assessment: ADL (Barthel Index) and IADL; (3) prevention of falls health beliefs; and (4) prevention of falls self-efficacy. With qualitative and in-depth interviews, 18 tribal elders, 55 years and above, were interviewed: 9 from the Atayal and 9 from the Tsou. Based on the Nvivo 12.0 data analysis software, this study concluded that the most predictable fall risk assessment tool is Downton Fall Risk Index (weighting: 0.8657), followed by BSR-5 (weighting: 0.5701), prevention of falls health beliefs (weighting: 0.448), Barthel scale (weighting: 0.4296), IADL (weighting: 0.1661), prevention of falls self-efficacy (weighting: 0.1391) and medical history (weighting: 0.0615). Further, qualitative results indicated that the issue of health inequalities under the influence of ethnic culture, including physical and disease characteristics, tend to be more than the proportion of heart and hypertension diseases, healthy behaviors such as unbalanced diet, cultural beliefs in gender division of labor and ethnic communication barriers and lack of cultural adaptability care resources. The risky tribal environment of mountainous areas is a major factor that leads to falls. The results provide an accurate assessment tool suitable for Taiwanese aboriginal elders' falls for future medical policy making and fall prevention intervention in cultural safety.