01.08.2016 | Original Article | Ausgabe 15/2016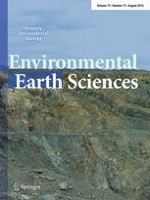 Using principal component analysis (PCA) in the investigation of aquifer storage and recovery (ASR) in Damascus Basin (Syria)
Zeitschrift:
Autor:

Boulos Abou Zakhem
Abstract
A multivariate statistical technique was used to determine the major hydrochemical processes that control the groundwater quality variations during "aquifer storage and recovery" (ASR) operations. Principal component analysis (PCA) was applied on chemical and isotopic data of 83 groundwater samples. It has allowed the reduction of the 14 variables to four significant PCs (factors
F
) that explain 82.2 % of the total variance. F1 (54.1 %) represents the mineralization and groundwater nitrates pollution, whereas F2 (13.2 %) exhibits the isotopic enrichment by evaporation of waters components. Factor score of F1–F2 contains four groups: Injected freshwater (II) distinguished by low mineralization. Native groundwater characterized by relatively high mineralization. Mixing groundwater has intermediate mineralization. The shifting of native groundwater to injected water is related to the mixing ratio between these two components. Thus, the quality of groundwater samples situated close to the injected water is enhanced. Surface water (QF) is enriched by δ
18
O and δ
2
H compared to the other components due to evaporation. The spatial pattern of iso-factor scores maps is generally similar to the pattern of EC, Cl
−
, NO
3
−
, and mixing ratio maps performed for the same experiment dates. Consequently, under the applied conditions of ASR process, the effective diameter is 250 m and 3 months of recovery time after complete injection. The results of this study clearly demonstrate the usefulness of multivariate statistical analysis as (PCA) in the ASR process investigation.