01.01.2014 | Ausgabe 1/2014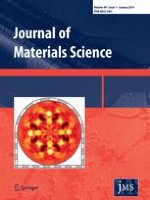 Using synchroton radiation-based micro-computer tomography (SR μ-CT) for the measurement of fibre orientations in cellulose fibre-reinforced polylactide (PLA) composites
Zeitschrift:
Autoren:

Nina Graupner, Felix Beckmann, Fabian Wilde, Jörg Müssig
Abstract
The present work deals with the measurement of fibre orientation angles in composites. A study by Bax and Müssig [
1
] investigated the mechanical properties (tensile and impact characteristics) of injection-moulded flax and Cordenka-reinforced polylactide (PLA) composites with fibre mass fractions between 10 and 30 %. Raising the fibre content from 10 to 30 % resulted in an increase in tensile characteristics, but it was noted that a reinforcement with 10 % flax fibres led to poorer tensile strength as compared to the neat PLA matrix. This behaviour was not expected and needs clarification. Therefore, test specimens with a fibre content of 10 and 30 mass % were examined for their fibre orientations and void content. For the investigations, microcomputer tomography images were created by monochromatic synchrotron radiation. Fibre orientation angles of these micrographs were determined with an adapted measuring mask of the Fibreshape software. It could be shown that the fibre orientation in the composite is dependent on the fibre mass fraction and the type of fibre. No voids were found in all the investigated composites. The average fibre orientation angle of 10 % flax/PLA showed a larger deviation from the longitudinal axis of the test specimen than the other samples, and is made primarily responsible for the lower tensile strength of this composite.