2018 | OriginalPaper | Buchkapitel
Utilize Imputation Method and Meta-analysis to Identify DNA-Methylation-Mediated microRNAs in Ovarian Cancer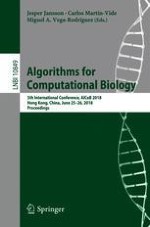 Erstes Kapitel lesen
Autoren: Ezra B. Wijaya, Erwandy Lim, David Agustriawan, Chien-Hung Huang, Jeffrey J. P. Tsai, Ka-Lok Ng
Abstract
Both epigenetics and genetic alterations are associated with cancer formation. Identification of prognostic biomarkers, DNA-methylation-mediated miRNAs, is an important step towards developing therapeutic treatment of cancer. Ovarian cancer is one of the most lethal cancers among the females, it was selected for the present study. The TCGA database provides large volume of data for cancer study, which is useful if one can combine different batches of datasets; hence, higher confident results can be obtained. There are several issues arise in data integration, i.e., missing data problem, data heterogeneity problem and the need of construct an automatic platform to reduce human intervention.
Method.
Both the normal and ovarian tumor datasets were obtained from the TCGA database. To interpolate the missing methylation values, we employed the
KNN
imputation method. Simulation tests were performed to obtain the optimal
k
value. We utilized meta-analysis to minimize the heterogeneity problem and derived statistical significant DNA methylation-mediated-miRNA events. Finally, a semi-automatic pipeline was constructed to facilitate the imputation and meta-analysis studies; thus, identify potential epigenetic biomarkers in a more efficient manner.
Results.
Both epigenetic- and TF-mediated effects were examined, which allow us to remove false positive events. The methylation-mediated-miRNA pairs identified by our platform are in-line with literature studies.
Conclusion.
We have demonstrated that our imputation and meta-analysis pipeline led to better performance and efficiency in detecting methylation-mediated-miRNA pairs. Furthermore, this study reveals the association between aberrant DNA methylation and alternated miRNA expression, which contributes to better knowledge of the role of epigenetics regulation in ovarian cancer formation.