20.04.2020 | Chemical routes to materials | Ausgabe 21/2020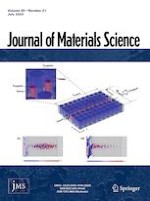 UV-light-assisted preparation of MoO3−

x

/Ag NPs film and investigation on the SERS performance
Zeitschrift:
Autoren:

Zhiqiang Niu, Canliang Zhou, Jiawei Wang, Yinghao Xu, Chenjie Gu, Tao Jiang, Shuwen Zeng, Yonghui Zhang, Diing Shenp Ang, Jun Zhou
Wichtige Hinweise
Electronic supplementary material
Publisher's Note
Springer Nature remains neutral with regard to jurisdictional claims in published maps and institutional affiliations.
Abstract
Surface-enhanced Raman scattering (SERS) technique is a powerful spectrum analysis technique for the ultra-low molecular trace detection. Conventionally, noble metals like silver (Ag) and gold (Au) are used to prepare the SERS substrates; however, limitations of complicated experimental designs and sophisticated process steps impede their wide applications in practice. Recently, metal oxides arise as a promising material for SERS application, but relatively weak Raman signal enhancement and poor material stability still pose as a challenge. Here, a UV-light-assisted fabrication of MoO
3−

x
/silver nanoparticles (MoO
3−

x
/Ag NPs) film is proposed. In the experiment, the sub-transition-metal-oxide of MoO
3−

x
was used as the Raman chemical enhancement substrate as well as the reducing agent. Through the spin-coating of MoO
3−

x
layer on the silicon substrate and UV-light-assisted reduction of silver nitride (AgNO
3
) on the MoO
3−

x
layer, a novel MoO
3−

x
/Ag NPs one-layer film was fabricated. Using the Rhodamine B (RhB) as the Raman reporter, SERS measurement shows that enhancement factor (EF) of 1.195 × 10
6
could be achieved. Moreover, a Raman signal amplifying strategy is further demonstrated by constructing MoO
3−

x
/Ag NPs multi-layer films. And result evidences that maximum gain of 2.07 for the RhB Raman peak at 1280 cm
−1
can be obtained on the MoO
3−

x
/Ag NPs three-layer film when referred to that on the MoO
3−

x
/Ag NPs one-layer film. Meanwhile, the EF of the MoO
3−

x
/Ag NPs three-layer film is also improved to 2.985 × 10
6
, giving the minimum detectable concentration of 10
−9
M.