23.08.2017 | Ausgabe 11/2017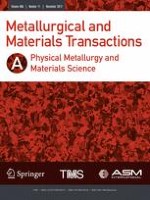 Vacuum Tribological Properties of Ti-20Zr-6.5Al-4V Alloy as Influenced by Sliding Velocities
Zeitschrift:
Autoren:

H. Zhong, L. Y. Dai, Y. J. Yang, Y. Yue, B. A. Wang, X. Y. Zhang, M. Z. Ma, R. P. Liu
Wichtige Hinweise
Manuscript submitted December 19, 2016.
Abstract
This research studied the vacuum tribological properties of annealed Ti-20Zr-6.5Al-4V alloy sliding against AISI 440C steel at various velocities ranging from 0.39 to 1.17 m/s using a ball-on-disc tribometer equipped with a vacuum chamber. The coefficient of friction and wear volumes of the annealed Ti-20Zr-6.5Al-4V alloy were obtained. Results indicated that the coefficient of friction increased at the beginning as the sliding velocity increased to 0.78 m/s and subsequently decreased with further increase in velocity. However, the wear volume increased monotonically with sliding velocity. Scanning electron microscopy was employed to study the wear mechanisms after tribological tests. Under a normal load of 10 N, abrasive wear was predominant at various sliding velocities, whereas the sliding velocity influenced the wear mechanisms significantly when the normal load was increased to 30 N. Under higher normal load, the abrasive wear was indentified as the main wear mechanism at a lower sliding velocity of 0.39 m/s. As the sliding velocity was increased to 1.17 m/s, severer abrasive wear, delamination wear, and plastic deformation were dominant. In addition, at a sliding velocity of 1.17 m/s, the wear mechanisms were abrasive and mild adhesive wear of the TiZrAlV alloy annealed at 1273 K (1000 °C) under the load of 10 N. The mechanism changed to severe plastic deformation and delamination wear when the normal load was increased to 30 N. The three-dimensional topography of the Ti-20Zr-6.5Al-4V disc worn surface was also explored.