20.04.2018 | Ausgabe 1/2019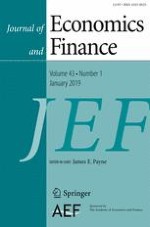 Validating empirically identified risk factors
Zeitschrift:
Autoren:

Glenn Pettengill, George Chang
Abstract
Fama and French (
J Financ, 33,
3–56.
1992
); Fama and French (
J Financ, 47,
427–465.
1993
) provide discipline altering studies which ended the dominance of Capital Asset Pricing Model (CAPM) and supplanted it with the Fama and French three factor model. The CAPM identified the market factor as the only systematic risk factor; the three factor model added size and value as systematic risk factors. The latter study validated the size and value risk factors by showing a correlation between portfolio and factor time-series returns. This model has been widely accepted but has proved "open-ended" as researchers have mimicked this effort to identify a large number of additional factors. Harvey et al. (
Rev Financ Stud, 29,
5–68.
2016
) note that researchers have empirically identified 316 factors tested as systematic risk factors and argue that the discipline needs to identify the few relevant risk factors. Motivated by this seemingly futile effort to find the correct set of risk factors, we contribute by suggesting necessary conditions to validate empirically identified risk factors. We apply these conditions to the factors of the original Fama-French model. Based on our analysis we argue that neither the size nor value mimicking factors should be considered systematic risk factors.