19.08.2019 | Original Paper | Ausgabe 5/2019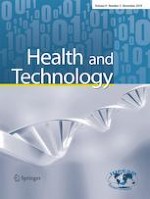 Validity and reliability of a Wi-Fi smart scale to estimate body composition
Zeitschrift:
Autoren:

Kelly M. Hood, Chloe Marr, Jennifer Kirk-Sorrow, John Farmer IV, C. Matthew Lee, Marialice Kern, James R. Bagley
Wichtige Hinweise
Publisher's note
Springer Nature remains neutral with regard to jurisdictional claims in published maps and institutional affiliations.
Abstract
With patients depending on 'at-home' devices to measure or monitor body composition changes to determine health- risks, there is the need for critical evaluation of these instruments. The purpose of this study was to determine the validity (i.e., accuracy) and reliability (i.e., consistency) of body fat percentage (BF%) estimates using the consumer Fitbit Aria™ foot-to-foot bioelectrical impedance analysis (BIA) Wi-Fi smart scale. Forty-three healthy volunteers [male (
n
 = 22), female (
n
 = 21); mean ± SD, age: 27.9 ± 5.6y; BMI: 23.7 ± 3.3 kg/m
2
] underwent measures of residual lung volume, hydration status, and BF% via the Aria™ smart scale ['Regular' (AR) and 'Lean' (AL) modes] vs. [hydrostatic weighing (HW)] on three separate days. Aria™ validity was assessed using Bland-Altman plots identifying mean biases and limits of agreement [mean difference (Aria–HW) ± 1.96SD] and between-day and -week reliability using two-way mixed, average measures absolute agreement intraclass correlation coefficients (ICC). Standard error of estimate (SEE) could not exceed ±3.5% for acceptable non-research agreement between methods. There were no significant differences between HW compared with AR for all participants (−0.3 ± 9.7%), females (1.1 ± 11.3%), and males (−1.6 ± 7.1%). AL also agreed with HW for females (−1.9 ± 8.6%), but significantly underestimated BF% for all participants and males when analyzed separately (
p
 ≤ 0.05). However, in each measure of validity the SEE fell outside ±3.5%, suggesting BF% measurements from HW and this smart scale cannot be used interchangeably. While not accurate for all individuals, the Aria™ Wi-Fi smart scale is a reliable device to measure BF% over time. Health care professionals may consider recommending this technology to empower patients who want to monitor their body composition at home.