2019 | OriginalPaper | Buchkapitel
Valuation of Household Losses in Child's Death Cases for Insurance Purposes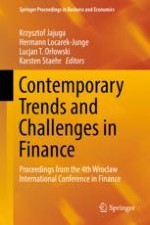 Erstes Kapitel lesen
Autoren: Anna Jędrzychowska, Ilona Kwiecień
Abstract
This article addresses the problem of the quantification of household loss resulting from the death of a child. The authors try to create a model combining methods of life valuation for the purpose of correctly managing the risk of a child's death in personal finances. These decisions also include decisions concerning insurance; it is necessary to determine the correct sum insured in life insurance and to make claims under liability insurance, if entitled. There are no systematic approaches to such claims processes in Poland, neither are there systematic rules for setting the proper sums in life insurance. Nevertheless, against the background of differences in valuation in practice, this issue is currently being discussed. Still, both kinds of decision focus rather on non-economic loss (pain and suffering) in practice; in contrast the authors indicate wider spectrum referring to the economic loss that the household actually experiences and economic basis of "non-economic" loss valuation.
The value of the loss results not only from direct costs, such as the funeral. According to the authors, in broad terms, the value can be determined based on the incurred and planned expenditure, as well as any legitimate benefits or support expected by the household. Thus, the model is based on a combination of economic approaches from the theory of value, including the cost of production, the willingness to pay, expected benefits, and needs analysis.
In the opinion of the authors, this can function as the basis for determining the level of insurable and also claiming interest, as well as preventing situations that could be perceived as morally dubious in cases in which the amounts are overstated, or undue loss where amounts are understated. In this way, this model could become an important element in the household financial management process.