01.08.2006 | ORIGINAL | Ausgabe 6/2006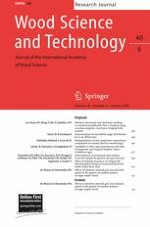 Variability in fibre and parenchyma cell walls of temperate and tropical bamboo culms of different ages
Zeitschrift:
Autoren:

Bieke Lybeer, Joris Van Acker, Paul Goetghebeur
Abstract
This study tries to clarify the conflicting results from previous studies on cell wall thickening in bamboo culms by applying light and transmission electron microscopy in combination with image analysis. It focused on both fibre and parenchyma wall thickness of both temperate (
Phyllostachys
spp.) and tropical (
Gigantochloa levis
and
Dendrocalamus asper
) bamboo species of different ages in the light of their suitability for the wood industry. The observations indicated a great heterogeneity in cell wall thickness and cell wall layering pattern of fibres within one culm. Nested design ANOVA's revealed a rising trend in wall thickness of late maturing fibres and parenchyma cells during the first year but significant wall thickening during later years could not be demonstrated. The high variability within one culm and between culms of the same age from 1 year on is partly masking a clear increased cell wall thickening at higher age. Nevertheless, the highest mean values for fibre wall thickness were recorded in culms of 44 months old or older, suggesting that some kind of late cell wall maturing can take place within one culm.