27.10.2017 | Original article | Ausgabe 4/2017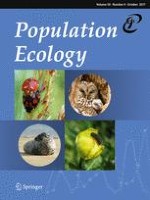 Variation in defensive chemistry within a polyphagous Baikal population of
Chrysomela lapponica

(Coleoptera: Chrysomelidae): potential benefits in a multi-enemy world
Zeitschrift:
Autoren:

Vitali Zverev, Mikhail V. Kozlov, Elena L. Zvereva
Wichtige Hinweise
Electronic supplementary material
The online version of this article (doi:
10.​1007/​s10144-017-0601-6
) contains supplementary material, which is available to authorized users.
Abstract
Variation in anti-predator chemical defence is frequently observed in natural populations, but its adaptive significance remains debatable. Most populations of the chemically defended leaf beetle,
Chrysomela lapponica
, are specialized to their host plants, but some populations are polyphagous. We tested the hypothesis that the use of multiple host plants by a Baikal population of
C. lapponica
results in variation in the composition of its defensive secretions, leading to variation in defence effectiveness against different natural enemies. The secretions of larvae feeding on local host plants differed both in the origin of major components (sequestered or autogeneous) and in chemical profiles. This variation was at least partly associated with differences in the secondary chemistry among the five most abundant plant species used by this population. Larvae feeding on different hosts in nature suffered similar overall mortality from enemies, but the relative contributions of different enemy species (natural enemy profiles) varied among host plant species. Behavioural experiments with three predators and one parasitoid showed that this variation may result from idiosyncratic responses of the enemy species to the composition of the larval defences. These differences allow part of the polyphagous leaf beetle population to escape from the currently most abundant enemy on the host plant species that provides the best protection against this enemy. In this way, the within-population variability in chemical defence, associated with feeding on hosts differing in chemistry, can buffer prey populations against fluctuating pressures of specific enemies.