01.08.2015 | Ausgabe 8/2015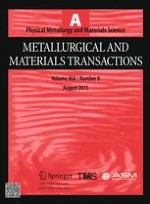 Variation in the Chemical Driving Force for Intragranular Nucleation in the Multi-pass Weld Metal of Ti-Containing High-Strength Low-Alloy Steel
Zeitschrift:
Autoren:

Yongjoon Kang, Kyutae Han, Joo Hyun Park, Changhee Lee
Wichtige Hinweise
Manuscript submitted November 25, 2014.
Abstract
The variation of the Mn-depleted zone (MDZ) around the inclusion during multi-pass welding of Ti-containing high-strength low-alloy (HSLA) steel was investigated by taking the changes in the impact toughness and microstructure into account. As-deposited weld metal specimens were prepared by single-pass, bead-in-groove welding, and reheated weld metal specimens were obtained by a thermal simulation technique. Two types of chemical compositions were prepared, mainly by controlling the Ti content in order to form two types of phases at inclusion/matrix interface: spinel and ilmenite. When the reheating thermal cycle is applied to the as-deposited weld metal, the MDZ depth varied depending on the inclusion surface phase; this could be explained by the competition of the homogenization effect and the dissolution effect, which occurred near the inclusion/matrix interface. In order to enhance the chemical driving force for intragranular nucleation in both as-deposited weld metal and reheated weld metal, the formation of ilmenite phase is recommended.