20.08.2018 | Ausgabe 9/2018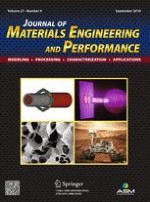 Variation of the Corrosion Behavior Prior to Crack Initiation of E690 Steel Fatigued in Simulated Seawater with Various Cyclic Stress Levels
Zeitschrift:
Autoren:

Tianliang Zhao, Zhiyong Liu, Liu Chao, Chunduo Dai, Cuiwei Du, Xiaogang Li
Abstract
The electrochemical process and corrosion behavior prior to crack initiation of E690 steel fatigued in simulated seawater are investigated under different cyclic stress levels by methods of electrochemical impedance spectroscopy, cyclic current response, electrochemical noise and morphology observation. The results show that the electrochemical behavior changes with the peak stress of cyclic loading and the corrosion behavior transforms as the peak stress increases over the proof strength. The charge transfer resistance (
R
ct
) decreases with elevated peak stress. Continuous decreasing
R
ct
with cycling number under peak stress of 1.02
σ
p0.2
indicates that continuous fresh metal induced by work-softening is exposed to the seawater, which is also proved by cyclic current response induced by cyclic stress and contact angle test. As a result, the corrosion type of E690 steel changes from general corrosion to pitting corrosion with the peak stress close to and above the proof strength. That induces the corrosion fatigue crack initiation mechanism to change correspondingly.