01.04.2013 | Research Paper | Ausgabe 4/2013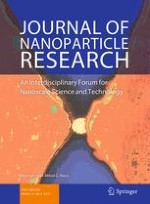 Vascular cemeteries formed by biological nanoparticles
Zeitschrift:
Autoren:

Andrei P. Sommer, Toshiyuki Tsurumoto
Abstract
We report the discovery of dense colonies of globular structures ranging from 100 nm to 5 μm in the tunica media of the femoral artery of an 89-year-old female cadaver. Systematic analysis using scanning electron microscopy, energy dispersive X-ray spectroscopy and light microscopy reveals that the globular structures are surrounded by vascular smooth muscle cells (VSMCs) and consist predominantly of calcium phosphate. Inspection of the images suggests the action of two complementary growth processes. The structures may grow both in size and in number locally by Ostwald ripening and a replicative route, respectively. Morphology in conjunction with the quality of their native growth niche suggests that they are different from nanocrystals released from apoptotic bodies. Their tendency to fill VSMC pockets leads to the speculation that they could represent an effort of the VSMC system to wall off cytotoxic nanocrystals liberated from apoptotic bodies. Alternatively, the structures may be equivalent with nanobacteria (NB)—a nomenclature which caused confusion. This is reflected by the multitude of names used by different authors for the nanoentities (living nanovesicles, nanobionta, calcifying nanoparticles, and nanons). Indeed, there is no clear definition in the literature as to what NB are. Considering that the calcium phosphate nanoparticles have been identified in the human body, we used in our study the descriptive name
biological nanoparticles
—the world's first nanoparticles.