2018 | OriginalPaper | Buchkapitel
7. VCO-Based 0-
\(\varDelta \varSigma \)

MASH ADC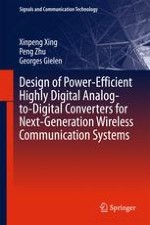 Erstes Kapitel lesen
Autoren: Xinpeng Xing, Peng Zhu, Georges Gielen
Abstract
As discussed in Chap.
4
, to address the issue of limited voltage headroom and to take advantage of the reduced CMOS gate delay in scaled CMOS technologies, VCO-based highly-digital ADCs have recently emerged in recent years. However, the performance of VCO-based ADCs is limited by the inherent nonlinearity of the VCOs. As shown in Fig.
7.1
, a VCO-based ADC can be utilized as a quantizer in a single-loop
\(\varDelta \varSigma \)
modulator. The preceding loop filter suppresses both the quantization noise and the nonlinearity, however, a high loop gain results in a high power consumption and potential instability problems. As discussed in Chap.
3
, in traditional
\(\varDelta \varSigma \)
ADC design, compared to single-loop structures, MASH architectures can offer a higher-order noise shaping with less instability concerns. This structure can also be implemented with VCO-based quantizers as will be demonstrated.