15.07.2020 | Ausgabe 5/2020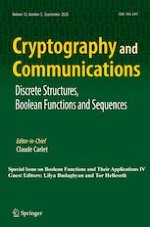 Vectorial bent functions in odd characteristic and their components
Zeitschrift:
Autoren:

Ayça Çeşmelioğlu, Wilfried Meidl, Alexander Pott
Wichtige Hinweise
This article belongs to the Topical Collection:
Boolean Functions and Their Applications IV
Guest Editors: Lilya Budaghyan and Tor Helleseth
Publisher's note
Springer Nature remains neutral with regard to jurisdictional claims in published maps and institutional affiliations.
Abstract
Bent functions in odd characteristic can be either (weakly) regular or non-weakly regular. Furthermore one can distinguish between dual-bent functions, which are bent functions for which the dual is bent as well, and non-dual bent functions. Whereas a weakly regular bent function always has a bent dual, a non-weakly regular bent function can be either dual-bent or non-dual-bent. The classical constructions (like quadratic bent functions, Maiorana-McFarland or partial spread) yield weakly regular bent functions, but meanwhile one knows constructions of infinite classes of non-weakly regular bent functions of both types, dual-bent and non-dual-bent. In this article we focus on vectorial bent functions in odd characteristic. We first show that most
p
-ary bent monomials and binomials are actually vectorial constructions. In the second part we give a positive answer to the question if non-weakly regular bent functions can be components of a vectorial bent function. We present the first construction of vectorial bent functions of which the components are non-weakly regular but dual-bent, and the first construction of vectorial bent functions with non-dual-bent components.