2013 | OriginalPaper | Buchkapitel
4. Vehicle Powertrain Technology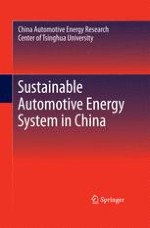 Erstes Kapitel lesen
Autoren: Wang Hewu, Du Jiuyu, Ouyang Minggao
Verlag: Springer Berlin Heidelberg
Abstract
In China, the internal-combustion engine accounts for over 99 % of vehicle power technology, and over 99 % passenger cars and 73 % commercial vehicles are powered by gasoline and diesel engines, respectively; the diesel-powered passenger cars are mainly SUVs and gasoline commercial vehicles mainly consist of mini-trucks, light trucks, and buses. The vehicle's power system is in the initial stage of electrification, but over 50 % of two-wheeled motor are electrified.
There is an upward tendency in gasoline and diesel consumption from Chinese vehicles, but the increase in gasoline consumption is lower than with diesel; vehicles consumed 85 % gasoline and 40 % diesel. There is a bottleneck in the development of diesel-powered passenger car, that is, the poor diesel quality.
Start-stop and ISG technologies can make 5–12 % and 20 % reductions in fuel consumption, respectively, and meet regulations of Chinese phase III fuel economy level. HEV technology is more widely used in commercial vehicles than in passenger cars in China. PHEV vehicle and extended-range electric vehicle technology have been applied only in a few vehicle models, still at the stage of technical verification. Hydrogen fuel-cell technology has been technically verified for urban buses and other passenger cars.