2017 | OriginalPaper | Buchkapitel
Venture Capital Investment and Trend in Clean Technologies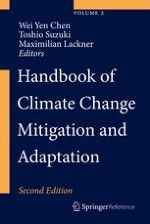 Erstes Kapitel lesen
Autor: John C. P. Huang
Abstract
"Cleantech" is being widely used to replace "Green Technology." It describes a group of emerging technologies and industries, based on principles of physics, chemistry, biology, and resource efficiency, new paradigms in energy, and water conservation. The scope of this field includes large-scale infrastructure projects as well as innovative technologies. The term Cleantech is also often associated with venture capital (VC) investment. A goal of this chapter is to provide readers with an overview of the scope and trends in venture capital-funded innovation in Cleantech, where and how to seek VC funding, and Cleantech implications on world climate change.
This chapter addresses the basics of venture capital and the dynamic field of Cleantech. Subjects covered are as follows:
(1) VC investment trend
based on the volume of funds invested and the number of projects funded;
(2) the scope of Cleantech
encompassing renewable energy, energy efficiency, green building, transportation, smart power, smart grid and energy storage, air, water, and waste;
(3) Cleantech technology trend
detailing 2014 Cleantech top 100 companies – a barometer of the changing face of global Cleantech innovation;
(4) Cleantech investment in Silicon Valley
assumed a leading role in the global competition to develop renewable energy and other clean, green technologies; and
(5) Cleantech investment in emerging nations
addressing the status in China and other developing nations.
The
Concluding Remark
discusses
multidiscipline for Cleantech and the key to the deployment of Cleantech innovations. The
Appendix
provides a brief introduction of how and where to find information and seek for VC funding.