2018 | OriginalPaper | Buchkapitel
Verbal Plurality of Frequency Adverbs in Mandarin Chinese: The Case of
Tōngcháng

(
)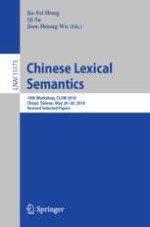 Erstes Kapitel lesen
Autoren: Daniel Kwang Guan Chan, Hua-Hung Yuan
Abstract
This paper concerns the adverb,
tōngcháng
, which can be placed in the topic position, at the beginning of a sentence or in the preverbal position. It will be analyzed as a verbal plurality marker at the occasion level in the framework of Cusic [
1
]. We will identify the adverb in these two positions as having different semantic properties, namely habituality and iterativity, as defined Bertinetto and Lenci [
2
]. We will demonstrate the function of
tōngcháng
when co-occuring with NP subjects with individual or kind denotation.