01.02.2017 | Thematic Issue | Ausgabe 3/2017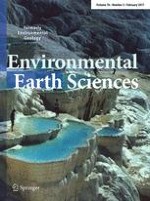 Vertical distribution of physical–chemical features of water and bottom sediments in four saline lakes of the Khangai mountain region, Western Mongolia
Zeitschrift:
Autoren:

Bayanmunkh Baatar, Buyan Chuluun, Sen-Lin Tang, Ochirkhuyag Bayanjargal, Bolormaa Oyuntsetseg
Wichtige Hinweise
This article is part of a Topical Collection in Environmental Earth Sciences on "Water in Central Asia", guest edited by Daniel Karthe, Iskandar Abdullaev, Bazartseren Boldgiv, Dietrich Borchardt, Sergey Chalov, Jerker Jarsjö, Lanhai Li and Jeff Nittrouer.
Abstract
Characterizing vertical profiles of water columns is important to understanding the biochemical cycles and nutrient dynamics of an aquatic ecosystem. Physical and chemical properties of surface water in Mongolian saline lakes have been studied over the past decade, but chemical composition along a vertical profile of the water column has not been well documented. Four major saline lakes (Lakes Telmen, Oigon, Tsegeen and Khag) in northwestern Mongolia were studied to determine geochemical behavior of microelements and to assess major ionic components and trace elements associated with vertical profile of various water samples and sediments. Water samples were vertically collected from each sampling depth with a vacuum deep-water sampler in July 2013. Physical–chemical parameters, major ionic components and trace elements were analyzed by conventional methods and inductively coupled plasma-mass spectrometry. Concentrations of microelements and mineralogical composition of sediment samples from near shore were characterized by X-ray fluorescence spectrometry and X-ray diffraction. This study was apparently the first to characterize chemical composition along vertical profiles of these lakes. Sodium, chloride and sulfate ions were largely conserved in all water samples except Lake Oigon. Depending on salinity type, these lakes were divided into sodium-sulfate lake (Lake Khag) or chloride lakes. Due to geomorphological characteristics, strontium (≤3.18 mg/l) was the only ion in the highest concentration across all depths of water and sediment samples among the lakes. Sediments were comprised mainly of quartz, anorthite, albite and orthoclase. In conclusion, physical and chemical properties in Lake Oigon were highly variable and dissimilar among lakes. Furthermore, we inferred that vertical profiles of water columns were intimately linked to variations in chemical composition of salt lakes in the western Mongolia.