17.10.2019 | Technical Paper | Ausgabe 4/2020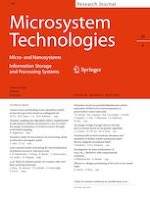 Vertical manipulation of fluids through electrostatic formation: model development and experimental validation
Zeitschrift:
Autoren:

John Cotter, Rasim Guldiken
Wichtige Hinweise
Publisher's Note
Springer Nature remains neutral with regard to jurisdictional claims in published maps and institutional affiliations.
Abstract
A novel actuation method, called electrostatic formation (ESF), for MEMS and other applications, is introduced. The ESF mechanism uses a droplet of liquid material that is electrostatically deformed. ESF differs from Electrowetting and Electrowetting on Dielectric as the electrode used to apply the voltage is of a smaller diameter than the droplet being manipulated, and the electrode is located above the manipulated fluid. Modeling this movement requires adherence to the Lippmann and Young–Laplace equations simultaneously. In order to understand how the surface tension is specifically manipulated, as is required for the development of a model of representation of the phenomenon, a force-based interpretation of the Lippmann equation is outlined, with focus on how it compares to the force response provided by hydrostatic pressure under the influence of gravitational field forces. Additionally, it is demonstrated that a differential surface charge must be present of which the formulation is complex in nature, likely stemming from the combination of the internal pressure and a localized skin effect caused by an electric double layer that is present at the surface of the transformed liquid. In this study, a target liquid of gallium is manipulated under electrostatic charge in a physical experiment and compared against the geometry suggested by the developed model. By utilizing the assumptions highlighted in this article, a coefficient of variance (R2) of 0.907 was calculated between the measurements and model. This coefficient of variance was improved to 0.915 through the introduction of varied electrostatic and internal pressure terms.