06.01.2020 | Ausgabe 9-10/2020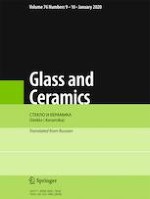 Vibrocompaction of Lead-Free Piezoceramic Material Based on Solid Solutions of Potassium and Sodium Niobates
Zeitschrift:
Autoren:

S. G. Ponomarev, A. V. Smirnov, A. V. Reznichenko, A. A. Vasin, V. P. Tarasovskii, A. D. Shlyapin, I. S. Solov'ev
Wichtige Hinweise
Translated from
Steklo i Keramika
, No. 9, pp. 31 – 36, September, 2019.
The possibility of obtaining samples of lead-free piezoceramic by vibromolding under pressing pressure < 0.3 MPa is studied. The experiments were performed on the material K0.49Na0.49Sr0.02NbO3 synthesized by the standard ceramic technology of solid-phase synthesis. The samples of the piezoceramic fabricated by vibromolding are similar in terms of their properties to those obtained by static pressing under pressure 100 – 150 MPa. The advantages of the vibrocompaction process are: lower expenditures on tooling and equipment, smaller elastic deformation, and higher product density.