2014 | OriginalPaper | Buchkapitel Open Access
3. Video Coding Standards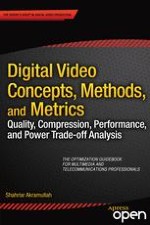 Autor: Shahriar Akramullah
Verlag: Apress
The ubiquity of video has been possible owing to the establishment of a common representation of video signals through
international standards
, with the goal of achieving common formats and interoperability of products from different vendors.
In the late 1980s, the need for standardization of digital video was recognized, and special expert groups from the computer, communications, and video industries came together to formulate practical, low-cost, and easily implementable standards for digital video storage and transmission. To determine these standards, the expert groups reviewed a variety of video data compression techniques, data structures, and algorithms, eventually agreeing upon a few common technologies, which are described in this chapter in some detail.
In the digital video field, many international standards exist to address various industry needs. For example, standard video formats are essential to exchange digital video between various products and applications. Since the amount of data necessary to represent digital video is huge, the data needs to be exchanged in compressed form—and this necessitates video data compression standards. Depending on the industry, standards were aimed at addressing various aspects of end-user applications. For example, display resolutions are standardized in the computer industry, digital studio standards are standardized in the television industry, and network protocols are standardized in the telecommunication industry. As various usages of digital video have emerged to bring these industries ever closer together, standardization efforts have concurrently addressed those cross-industry needs and requirements. In this chapter we discuss the important milestones in international video coding standards, as well as other video coding algorithms popular in the industry.
Overview of International Video Coding Standards
International video coding standards are defined by committees of experts from organizations like the International Standards Organization (ISO) and the International Telecommunications Union (ITU). The goal of this standardization is to have common video formats across the industry, and to achieve interoperability among different vendors and video codec related hardware and software manufacturers.
The standardization of algorithms started with image compression schemes such as JBIG (ITU-T Rec. T82 and ISO/IEC 11544, March 1993) for binary images used in fax and other applications, and the more general JPEG (ITU-T Rec. T81 and ISO/IEC 10918-1), which includes color images as well. The JPEG standardization activities started in 1986, but the standard was ratified in 1992 by ITU-T and in 1994 by ISO. The main standardization activities for video compression algorithms started in the 1980s, with the ITU-T H.261, ratified in 1988, which was the first milestone standard for visual telecommunication. Following that effort, standardization activities increased with the rapid advancement in the television, film, computer, communication, and signal processing fields, and with the advent of new usages requiring contributions from all these diverse industries. These efforts subsequently produced MPEG-1, H.263, MPEG-2, MPEG-4 Part 2, AVC/H.264, and HEVC/H.265 algorithms. In the following sections, we briefly describe the major international standards related to image and video coding.
Overview of Other Industry Standards and Formats
In addition to the international standards defined by the ISO, the ITU, or the
Institute of Electrical and Electronics Engineers
(IEEE), there are standards well known in the industry. A few of these standards are described below.
VC-1
Initially developed as a proprietary video format by Microsoft, the well-known VC-1 format was formally released as the SMPTE 421M video codec standard in 2006, defined by the Society of Motion Pictures and Television Engineers (SMPTE). It is supported by Blu-ray, currently obsolete HD-DVD, Microsoft Windows Media, Microsoft Silverlight framework, Microsoft X-Box 360, and Sony PlayStation 3 video game consoles, as well as various Windows-based video applications. Hardware decoding of VC-1 format is available in Intel integrated processor graphics since second-generation Intel (R) Core (TM) processor (2011) and in Raspberry Pi (2012).
VC-1 uses the conventional DCT-based design similar to the international standards, and supports both progressive and interlaced video. The specification defines three profiles: Simple, Main, and Advanced, and up to five levels. Major tools supported by each profile are shown in Table
3-3
.
Table 3-3.
VC-1 Profiles and Levels
Profiles

Levels

Maximum Bit Rate (kbps)

Resolution @ Frame rate

Tools

Simple

Low

96

176 × 144 @ 15 (QCIF)

Baseline intra frame compression; variable sized, 16-bit and overlapped transform; four motion vectors per macroblock; quarter pixel luma motion compensation

Medium

384

240 × 176 @ 30,

352 × 288 @ 15 (CIF)

Main

Low

2,000

320 × 240 @ 24 (QVGA)

In addition to Simple profile:

Start codes; quarter-pixel chroma motion compensation; extended motion vectors; loop filter; adaptive quantization;

B

-frames; dynamic resolution change; intensity compensation; range adjustment

Medium

10,000

720 × 480 @ 30 (480p30),

720 × 576 @ 25 (576p25)

High

20,000

1920 × 1080 @ 30 (1080p30)

Advanced

L0

2,000

352 × 288 @ 30 (CIF)

In addition to Main profile:

GOP layer; field and frame coding modes; display metadata

L1

10,000

720 × 480 @ 30 (NTSC-SD),

720 × 576 @ 25 (PAL-SD)

L2

20,000

720 × 480 @ 60 (480p60),

1280 × 720 @ 30 (720p30)

L3

45,000

1920 × 1080 @ 24 (1080p24),

1920 × 1080 @ 30 (1080i30),

1280 × 720 @ 60 (720p60)

L4

135,000

1920 × 1080 @ 60 (1080p60),

2048 × 1536 @ 24
VP8
With the acquisition of On2 Technologies, Google became the owner of the VP8 video compression format. In November 2011, the VP8 data format and decoding guide was published as RFC 6386
6
by the Internet Engineering Task Force (IETF). The VP8 codec library software,
libvpx
, is also released by Google under a BSD license. VP8 is currently supported by Opera, FireFox, and Chrome browsers, and various hardware and software-based video codecs, including the Intel integrated processor graphics hardware.
Like many modern video compression schemes, VP8 is based on decomposition of frames into square subblocks of pixels, prediction of such subblocks using previously constructed blocks, and adjustment of such predictions using a discrete cosine transform (DCT), or in one special case, a Walsh-Hadamard transform (WHT). The system aims to reduce data rate through exploiting the temporal coherence of video signals by specifying the location of a visually similar portion of a prior frame, and the spatial coherence by taking advantage of the frequency segragtion provided by DCT and WHT and the tolerance of the human visual system to moderate losses of fidelity in the reconstituted signal. Further, VP8 augments these basic concepts with, among other things, sophisticated usage of contextual probabilities, resulting in a significant reduction in data rate at a given quality.
The VP8 algorithm exclusively specifies fixed-precision integer operations, preventing the reconstructed signal from any
drift
that might have been caused by truncation of fractions. This helps verify the correctness of the decoder implementation and helps avoid inconsistencies between decoder implementations. VP8 works with 8-bit YUV 4:2:0 image formats, internally divisible into 16×16 macroblocks and 4×4 subblocks, with a provision to support a secondary YUV color format. There is also support of an optional upscaling of internal reconstruction buffer prior to output so that a reduced-resolution encoding can be done, while the decoding is performed at full resolution.
Intra
or key frames are defined to provide random access while
inter
frames are predicted from any prior frame up to and including the most recent key frame; no bi-directional prediction is used. In general, the VP8 codec uses three different reference frames for inter-frame prediction: the previous frame, the golden frame, and the
altref
frame to provide temporal scalability.
VP8 codecs apply data partitioning to the encoded data. Each encoded VP8 frame is divided into two or more partitions, comprising an uncompressed section followed by compressed header information and per-macroblock information specifying how each macroblock is predicted. The first partition contains prediction mode parameters and motion vectors for all macroblocks. The remaining partitions all contain the quantized DCT or WHT coefficients for the residuals. There can be one, two, four, or eight DCT/WHT partitions per frame, depending on encoder settings. Details of the algorithm can be found in the RFC 6386.
An RTP payload specification
7
applicable to the transmission of video streams encoded using the VP8 video codec has been proposed by Google. The RTP payload format can be used both in low-bit-rate peer-to-peer and high-bit-rate video conferencing applications. The RTP payload format takes the frame partition boundaries into consideration to improve robustness against packet loss and to facilitate error concealment. It also uses advanced reference frame structure to enable efficient error recovery and temporal scalability. Besides, marking of the non-reference frames is done to enable servers or media-aware networks to discard appropriate data as needed.
The IETF Internet Draft standard for browser
application programming interface
(API), called the
Web Real Time Communication
(WebRTC),
8
specifies that if VP8 is supported, then the
bilinear
and the
none
reconstruction filters, a frame rate of at least 10 frames per second, and resolutions ranging from 320×240 to 1280×720 must be supported. Google Chrome, Mozilla, FireFox, and Opera browsers support the WebRTC APIs, intended for browser-based applications including video chatting. Google Chrome operating system also supports WebRTC.
VP9
The video compression standard VP9 is a successor to the VP8 and is also an open standard developed by Google. The latest specification was released in February 2013 and is currently available as an Internet-Draft
9
from the IETF; the final specification is not ratified yet. The VP9 video codec is developed specifically to meet the demand for video consumption over the Internet, including professional and amateur-produced video-on-demand and conversational video content. The WebM media container format provides royalty-free, open video compression for HTML5 video, by primarily using the VP9 codec, which replaces the initially supported codec VP8.
The VP9 draft includes a number of enhancements and new coding tools that have been added to the VP8 codec to improve the coding efficiency. The new tools described in the draft include larger prediction block sizes up to 64×64, various forms of compound inter prediction, more intra prediction modes, one-eighth-pixel motion vectors, 8-tap switchable sub-pixel interpolation filters, improved motion reference generation and motion vector coding, improved entropy coding including frame-level entropy adaptation for various symbols, improved loop filtering, the incorporation of the
Asymmetric Discrete Sine Transform
(ADST), larger 16×16 and 32×32 DCTs, and improved frame-level segmentation. However, VP9 is currently under development and the final version of the VP9 specification may differ considerably from the draft specification, of which some features are described here.
Picture Partitioning
VP9 partitions the picture into 64 × 64
superblocks
(SB), which are processed in raster-scan order, from left to right and top to bottom. Similar to HEVC, superblocks can be subdivided down to a minimum of 4×4 using a recursive quad-tree, although 8×8 block sizes are the most typical unit for mode information. In contrast to HEVC, however, the slice structure is absent in VP9.
It is desirable to be able to carry out encoding or decoding tasks in parallel, or to use multi-threading in order to effectively utilize available resources, especially on resource-constrainted personal devices like smartphones. To this end, VP9 offers frame-level parallelism via the
frame_parallel_mode
flag and two- or four-column based tiling, while allowing loop filtering to be performed across tile boundaries. Tiling in VP9 is done in vertical direction only, while each tile has an integral number of blocks. There is no data dependency across adjacent tiles, and any tile in a frame can be processed in any order. At the start of every tile except the last one, a 4-byte size is transmitted, indicating the size of the next tile. This allows a multi-threaded decoder to start a particular decoding thread by skipping ahead to the appropriate tile. There are four tiles per frame, facilitating data parallelization in hardware and software implementations.
Bitstream Features
The VP9 bitstream is usually available within a container format such as WebM, which is a subset of the Matroska Media Container. The container format is needed for random access capabilities, as VP9 does not provide start codes for this purpose. VP9 bitstreams start with a key frame containing all intra-coded blocks, which is also a decoder reset point. Unlike VP8, there is no data partitioning in VP9; all data types are interleaved in superblock coding order. This change is made to facilitate hardware implementations. However, similar to VP8, VP9 also compresses a bitstream using an 8-bit non-adaptive arithmetic coding (a.k.a.
bool-coding
), for which the probability model is fixed and all the symbol probabilities are known a priori before the frame decoding starts. Each probability has a known default value and is stored as a 1 byte data in the frame context. The decoder maintains four such contexts, and the bitstream signals which one to use for the frame decode. Once a frame is decoded, based upon the occurrence of certain symbols in the decoded frame, a context can be updated with new probability distributions for use with future frames, thus providing limited context adaptability.
Each coded frame has three sections:
Uncompressed header

: Few bytes containing picture size, loop-filter strength, etc.

Compressed header

: Bool-coded header data containing the probabilities for the frame, expressed in terms of differences from default probability values.

Compressed frame data

: Bool-coded frame data needed to reconstruct the frame, including partition information, intra modes, motion vectors, and transform coefficients.
In addition to providing high compression efficiency with reasonable complexity, the VP9 bitstream includes features designed to support a variety of specific use-cases involving delivery and consumption of video over the Internet. For example, for communication of conversational video with low latency over an unreliable network, it is imperative to support a coding mode where decoding can continue without corruption even when arbitrary frames are lost. Specifically, the arithmetic decoder should be able to continue decoding of symbols correctly even though frame buffers have been corrupted, leading to encoder-decoder mismatch.
VP9 supports a frame level
error_resilient_mode
flag to allow coding modes where a manageable drift between the encoder and decoder is possible until a key frame is available or an available reference picture is selected to correct the error. In particular, the following restrictions apply under error resilient mode while a modest performance drop is expected:
At the beginning of each frame, the entropy coding context probabilities are reset to defaults, preventing propagation of forward or backward updates.

For the motion vector reference selection, the co-located motion vector from a previously encoded reference frame can no longer be included in the reference candidate list.

For the motion vector reference selection, sorting of the initial list of motion vector reference candidates based on searching the reference frame buffer is disabled.
The VP9 bitstream does not offer any security functions. Integrity and confidentiality must be ensured by functions outside the bistream, although VP9 is independent of external objects and related security vulnerabilities.
Residual Coding
If a block is not a skipped block (indicated at 8×8 granularity), a residual signal is coded and transmitted for it. Similar to HEVC, VP9 also supports different sizes (32×32, 16×16, 8×8, and 4×4) for an integer transform approximated from the DCT. However, depending on specific characteristics of the intra residues, either or both the vertical and the horizontal transform pass can be ADST instead. The transform size is coded in the bitstream such that a 32×16 block using a 8×8 transform would have luma residual made up of a 4×2 grid of 8×8 transform coefficients, and the two 16×8 chroma residuals, each consisting of a 2×1 grid of 8×8 transform coefficients.
Transform coefficients are scanned starting at the upper left corner, following a "curved zig-zag" pattern toward the higher frequencies, while transform blocks with mixed DCT/DST use a scan pattern skewed accordingly.
10
However, the scan pattern is not straightforward and requires a table lookup. Furthermore, each transform coefficient is coded using bool-coding and has several probabilities associated with it, resulting from various parameters such as position in the block, size of the transform, value of neighboring coefficients, and the like.
Inverse quantization is simply a multiplication by one of the four scaling factors for luma and chroma DC and AC coefficients, which remain the same for a frame; block-level QP adjustment is not allowed. Additionally, VP9 offers a lossless mode at frame level using 4×4 Walsh-Hadamard transform.
Intra Prediction
Intra prediction in VP9 is similar to the intra prediction method in AVC and HEVC, and is performed on partitions the same as are the transform block partitions. For example, a 16×8 block with 8×8 transforms will result in two 8×8 luma prediction operations. There are 10 different prediction modes: the DC, the TM (True Motion), vertical, horizontal, and six angular predictions approximately corresponding to the 27, 45, 63, 117, 135, and 153 degree angles. Like other codecs, intra prediction requires two one-dimensional arrays that contain the reconstructed left and upper pixels of the neighboring blocks. For block sizes above 4×4, the second half of the horizontal array contains the same value as the last pixel of the first half. An example is given in Figure
3-19
.
×
Inter Prediction
Inter prediction in VP9 uses eighth-pixel motion compensation, offering twice the precision of most other standards. For motion compensation, VP9 primarily uses one motion vector per block, but optionally allows a
compound prediction
with two motion vectors per block resulting in two prediction samples that are averaged together. Compound prediction is only enabled in non-displayable frames, which are used as reference frames.
11
VP9 allows these non-displayable frames to be piggy-backed with a displayable frame, together forming a superframe to be used in the container.
VP9 defines a family of three 8-tap filters, selectable at either the frame or block level in the bitstream:
8-tap Regular: An 8-tap Lagrangian interpolation filter

8-tap Sharp: A DCT-based interpolation filter, used mostly around sharper edges

8-tap Smooth (non-interpolating): A smoothing non-interpolating filter, in the sense that the prediction at integer pixel-aligned locations is a smoothed version of the reference frame pixels
A motion vector, points to one of three possible reference frames, known as the
Last
, the
Golden
, and the
AltRef
frames. The reference frame is applied at 8×8 granularity—for example, two 4×8 blocks, each with their own motion vector, will always point to the same reference frame.
In VP9, motion vectors are predicted from a sorted list of candidate reference motion vectors. The candidates are built using up to eight surrounding blocks that share the same reference picture, followed by a temporal predictor of co-located motion vector from the previous frame. If this search process does not fill the list, the surrounding blocks are searched again but this time the reference doesn't have to match. If this list is still not full, then (0, 0) vectors are inferred.
Associated with a block, one of the four motion vector modes is coded:
NEW_MV: This mode uses the first entry of the prediction list along with a delta motion vector which is transmitted in the bitstream.

NEAREST_MV: This mode uses the first entry of the prediction list as is.

NEAR_MV: This mode uses the second entry of the prediction list as is.

ZERO_MV: This mode uses (0, 0) as the motion vector value.
A VP9 decoder maintains a list of eight reference pictures at all times, of which three are used by a frame for inter prediction. The predicted frame can optionally insert itself into any of these eight slots, evicting the existing frame. VP9 supports reference frame scaling; a new inter frame can be coded with a different resolution than the previous frame, while the reference data is scaled up or down as needed. The scaling filters are 8-tap filters with 16th-pixel accuracy. This feature is useful in variable bandwidth environments, such as video conferencing over the Internet, as it allows for quick and seamless on-the-fly bit-rate adjustment.
Loop Filter
VP9 introduces a variety of new prediction block and transform sizes that require additional loop filtering options to handle a large number of combinations of boundary types. VP9 also incorporates a flatness detector in the loop filter that detects flat regions and varies the filter strength and size accordingly.
The VP9 loop filter is applied to a decoded picture. The loop filter operates on a superblock, smoothing the vertical edges followed by the horizontal edges. The superblocks are processed in raster-scan order, regardless of any tile structure that may be signaled. This is different from the HEVC loop filter, where all vertical edges of the frame are filtered before any horizontal edges. There are four different filters used in VP9 loop filtering: 16-wide, 8-wide, 4-wide, and 2-wide, where on each side of the edge eight, four, two, and one pixels are processed, respectively. Each of the filters is applied according to a threshold sent in the frame header. A filter is attempted with the conditions that the pixels on either side of the edge should be relatively smooth, and there must be distinct brightness difference on either side of the edge. Upon satisfying these conditions, a filter is used to smooth the edge. If the condition is not met, the next smaller filter is attempted. Block sizes 8×8 or 4×4 start with the 8-wide or smaller filter.
Segmentation
In general, the segmentation mechanism in VP9 provides a flexible set of tools that can be used in a targeted manner to improve perceptual quality of certain areas for a given compression ratio. It is an optional VP9 feature that allows a block to specify a segment ID, 0 to 7, to which it belongs. The frame header can convey any of the following features, applicable to all blocks with the same segment ID:
AltQ

: Blocks belonging to a segment with the AltQ feature may use a different inverse quantization scale factor than blocks in other segments. This is useful in many rate-control scenarios, especially for non-uniform bit distribution in foreground and background areas.

AltLF

: Blocks belonging to a segment with the AltLF feature may use a different smoothing strength for loop filtering. This is useful in application specific targeted smoothing of particular set of blocks.

Mode

: Blocks belonging to a segment with an active mode feature are assumed to have the same coding mode. For example, if skip mode is active in a segment, none of the blocks will have residual information, which is useful for static areas of frames.

Ref:

Blocks belonging to a segment that have the Ref feature enabled are assumed to point to a particular reference frame (Last, Golden, or AltRef). It is not necessary to adopt the customary transmission of the reference frame information.

EOB

: Blocks belonging to a segment with the coefficient end of block (EOB) marker coding feature may use the same EOB marker coding for all blocks belonging to the segment. This eliminates the need to decode EOB markers separately.

Transform size

: The block transform size can also be indicated for all blocks in a segment, which may be the same for a segment, but allows different transform sizes to be used in the same frame.
In order to minimize the signaling overhead, the segmentation map is differentially coded across frames. Segmentation is independent of tiling.
Summary
This chapter presented brief overviews of major video coding standards available in the industry. With a view toward guaranteeing interoperability, ease of implementation, and industry-wide common format, these standards specified or preferred certain techniques over others. Owing to the discussions provided earlier in this chapter, these predilections would be easy to understand. Another goal of the video coding standards was to address all aspects of practical video transmission, storage, or broadcast within a single standard. This was accomplished in standards from H.261 to MPEG-2. MPEG-4 and later standards not only carried forward the legacy of success but improved upon the earlier techniques and algorithms.
Although in this chapter we did not attempt to compare the coding efficiencies provided by various standards' algorithms, such studies are available in the literature; for example, those making an interesting comparison between MPEG-2, AVC, WMV-9, and AVS.
12
Over the years such comparisons—in particular, determination of bit-rate savings of a later-generation standard compared to the previous generation, have become popular, as demonstrated by Grois et al.
13
in their comparison of HEVC, VP9, and AVC standards.
Open Access
This chapter is licensed under the terms of the Creative Commons Attribution-NonCommercial-NoDerivatives 4.0 International License (
http://​creativecommons.​org/​licenses/​by-nc-nd/​4.​0/​
), which permits any noncommercial use, sharing, distribution and reproduction in any medium or format, as long as you give appropriate credit to the original author(s) and the source, provide a link to the Creative Commons licence and indicate if you modified the licensed material. You do not have permission under this licence to share adapted material derived from this chapter or parts of it.
The images or other third party material in this chapter are included in the chapter's Creative Commons licence, unless indicated otherwise in a credit line to the material. If material is not included in the chapter's Creative Commons licence and your intended use is not permitted by statutory regulation or exceeds the permitted use, you will need to obtain permission directly from the copyright holder.