2018 | OriginalPaper | Buchkapitel
3. Vilfredo's School and University Education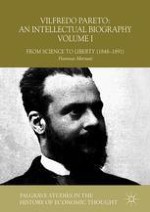 Erstes Kapitel lesen
Autor: Fiorenzo Mornati
Abstract
This chapter consists of an original and documented study of Pareto's scholastic and university education. Drawing on what little direct documentation we possess, as well as on the copious legislation of the time, the first two sections will be devoted to a detailed reconstruction of the curriculum he followed at the Technical Institute in Casale Monferrato and thereafter in Turin at the faculty of mathematics and at the school of specialisation for engineers. In order to contribute further to the elucidation of this hitherto fairly obscure period in Pareto's intellectual biography, which (with the exception of the now-complete list of his exam results) certainly warrants further investigation, brief biographies are provided of many of his university and also his school teachers. In Sect.
3.3
, a broad description is given, based on unpublished documentation, of two of the courses he followed: calculus and theoretical mechanics. As a result, we finally gain a clearer picture regarding the two logical tools most used by Pareto in his later scientific career, that is, calculus and the concept of equilibrium. Section
3.4
consists of a description of Pareto's scientific and mathematical patrimony at the conclusion of the decade dedicated to studies under the guidance of his father. This aspect of Pareto's intellectual biography has hitherto been largely neglected but is clearly indispensable to achieving a better understanding of his later scientific work, with its overarching reference to the concept of equilibrium, characterised by an extensive but not fanatical application of mathematical analysis. Further examination on the part of historians of mathematics in relation to Pareto's exposure to these two disciplines could lead to a welcome addition to our understanding of this interesting youthful span of his intellectual biography.