2019 | OriginalPaper | Buchkapitel
7. Violent Gender Social Representations and the Family as a Social Institution in Transition in Mexico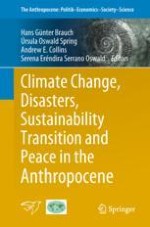 Erstes Kapitel lesen
Autor: Serena Eréndira Serrano Oswald
Abstract
The Anthropocene has led to significant discussions on the emergence of a new era in human and Earth history, with all its implications. In it, human beings are at the same time the main threat to the Planet and the potential solution, leading to discussions in the social sciences and the humanities addressing the societal consequences of complex interrelations between global environmental change, lack of sustainable development, poor governance, inequality, social challenges, economic crises and risk society. In the midst of these changes and debates, social relations, social dynamics and social institutions have also changed significantly and at a very rapid pace, reflecting changes over the past decades. The family, considered the basic institution of society, is also a historically-bound institution, based on violent dynamics of gender domination, exclusion and subordination in patriarchal societies, that has changed across time and space.
In the past five decades, the period of most intense anthropogenic activities, it is one of the main social institutions that has experienced very visible changes which are redefining social knowledge, social relations and identities in multiple ways. It is not that the family has changed because of the Anthropocene, but rather that broad societal changes reflected in the Anthropocene have also impacted on the family.
Social Representations Theory
(SRT) is an epistemological, theoretical and methodological perspective that has been evolving since the 1960s and that deals with common-sense knowledge, a way of making the unfamiliar familiar, understood as the link between knowledge and practice, and practice and knowledge in everyday life. It also looks into the way in which scientific and expert knowledge is accommodated in lay people's lives on a quotidian basis.
This chapter, based on the linkages between gender and social representations studies, develops a theoretical-conceptual framework to investigate the transitions, challenges and continuities of the family as institution in the current
époque
, in the specific case of Mexico, especially following technological advances and legislative changes that have polarised the public.
It unfolds in three main sections. First, in the Introduction, there are four interrelated subsections dealing with the general historical and conceptual framework, namely (i) the current historical
époque
: the dawn of the Anthropocene (
7.1.1
); (ii) the theoretical and methodological model: Social Representations Theory (
7.1.2
); (iii) the object of study: the family as social institution (
7.1.3
); and (iv) the context of the study: social and gender violent dynamics in Mexico (
7.1.4
). The second main section addresses the family, social representations and gender; it presents the theoretical-methodological model. The third and last section is thematic, looking at assisted reproductive technologies and 'homoparenting' (gay and lesbian parenting) in Mexico. There is a brief closing reflection at the end of the chapter.