21.11.2018 | Original Paper | Ausgabe 1/2019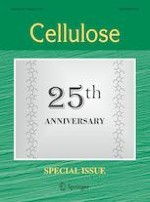 Viscoelastic properties of nanocellulose based inks for 3D printing and mechanical properties of CNF/alginate biocomposite gels
Zeitschrift:
Autoren:

Ellinor B. Heggset, Berit L. Strand, Kristin W. Sundby, Sébastien Simon, Gary Chinga-Carrasco, Kristin Syverud
Abstract
Inks for 3D printing based on cellulose nanofibrils (CNFs) or mixtures of CNFs and either cellulose nanocrystals (CNCs) or alginate were assessed by determining their viscoelastic properties i.e. complex viscosity and storage and loss moduli (G′ and G″). Two types of alginates were used, i.e. from
Laminaria hyperborea
stipe and
Macrocystis pyrifera
. Shape fidelity of 3D printed grids were qualitatively evaluated and compared to the viscoelastic properties of the inks. The biocomposite gels containing alginate were post stabilized by crosslinking with Ca
2+
. Mechanical properties of the crosslinked biocomposite gels were assessed. The complex viscosity, G′ and G″ of CNF suspensions increased when the solid content was increased from 3.5 to 4.0 wt%, but levelled off by further increase in CNF solid content. The complex viscosity at low angular frequency at 4 wt% was as high as 10
4
Pa·s. This seemed to be the necessary viscosity level for obtaining good shape fidelity of the printed structures for the studied systems. By replacing part of the CNFs with CNCs, the complex viscosity, G′ and G″ were reduced and so was also the shape fidelity of the printed grids. The changes in complex viscosity and moduli when CNFs was replaced with alginate depended on the relative amounts of CNFs/alginate. The type of alginate (from either
L. hyp.
stipe or
M. pyr.
) did not play a role for the viscoelastic properties of the inks, nor for the printed grids before post stabilization. Replacing CNFs with up to 1.5 wt% alginate gave satisfactory shape fidelity. The effect of adding alginate and subsequent crosslinking with Ca
2+
, strongly affected the strength properties of the gels. By appropriate choice of relative amounts of CNFs and alginate and type of alginate, the Young's modulus and rupture strength could be controlled within the range of 30–150 kPa and 1.5–6 kg, respectively. The deformation at rupture was around 55%. The alginate from
L. hyp.
stipe yields higher Young's modulus and lower syneresis compared to
M. pyr
. This shows that the choice of alginate plays a significant role for the mechanical properties of the final product, although it does not influence on the viscoelastic properties of the ink. The choice of alginate should be
L. hyp.
stipe if high strength is desired.
Graphical abstract
×