20.01.2017 | Ausgabe 9/2017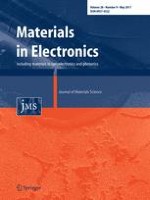 Visible light driven photodegradation of Rhodamine B using cysteine capped ZnO/GO nanocomposite as photocatalyst
Autoren:

S. Steplin Paul Selvin, N. Radhika, Oimang Borang, I. Sharmila Lydia, J. Princy Merlin
Wichtige Hinweise
Electronic supplementary material
The online version of this article (doi:
10.​1007/​s10854-017-6367-y
) contains supplementary material, which is available to authorized users.
Abstract
The cysteine capped ZnO/graphene oxide (CCZG) composite was successfully synthesized by co-precipitation method. The as synthesized CCZG was characterized by X-ray diffraction, diffused reflectance spectra, scanning electron microscopy, transmission electron microscope, Fourier transform-infra red spectral studies. The photocatalytic result reveals that the CCZG composite exhibited enhanced photocatalytic activity towards degradation of Rhodamine B (RhB) under compact fluorescent lamp (CFL) light irradiation. It is found that increase the graphene oxide content in the composite increases the photocatalytic activity which is higher than bare CCZ. The improved photocatalytic activity reduces the recombination of photogenerated charges and high dye adsorption ability of the composites. Further the mineralization of RhB dye has been confirmed by TOC analysis. A mechanism was also proposed for the degradation of RhB by CCZG under CFL light.