2017 | OriginalPaper | Buchkapitel
26. Vision, Thinking, and Model-Based Inferences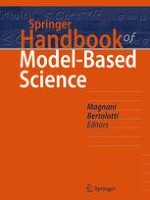 Erstes Kapitel lesen
Autor: Athanassios Raftopoulos
Verlag: Springer International Publishing
Abstract
Model-based reasoning refers to the sorts of inferences performed on the basis of a knowledge context that guides them. This context constitutes a model of a domain of reality, that is, an approximative and simplifying to various degrees representation of the factors that underlie, and the interrelations that govern, the behavior of this domain.
This chapter addresses both the problem of whether vision involves model-based inferences and, if yes, of what kind; and the problem of the nature of the context that acts as the model guiding visual inferences. It also addresses the broader problem of the relation between visual processing and thinking . To this end, the various modes of inferences, the most predominant conceptions about visual perception, the stages of visual processing, the problem of the cognitive penetrability of perception, and the logical status of the processes involved in all stages of visual processing will be discussed and assessed.
The goal of this chapter is, on the one hand, to provide the reader with an overview of the main broad problems that are currently debated in philosophy, cognitive science, and visual science, and, on the other hand, to equip them with the knowledge necessary to allow them to follow and assess current discussions on the nature of visual processes, and their relation to thinking and cognition in general.