07.11.2018 | Original Paper | Ausgabe 3/2018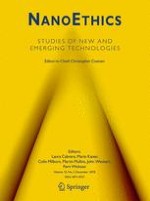 Visions of In Vitro Meat among Experts and Stakeholders
Zeitschrift:
Autoren:

Inge Böhm, Arianna Ferrari, Silvia Woll
Wichtige Hinweise
List of Interview Partners
The references consist of a letter abbreviation for each interview and the line in the respective transcript.
A – Representative of an organic producer association
B – Representative of an animal rights organisation
C – Innovator
D – Politician
E – Representative of an environmental organisation
G – Representative of a food company
H – Food technologist
I – In vitro meat researcher
J – Tissue engineer
K – Representative of a conventional producer cooperative
L – Representative of a food service company
Abstract
In vitro meat (IVM) is presented by innovators as the most realistic and sustainable solution to the problems of current meat production and consumption. The innovators argue that in vitro meat could be more environmentally friendly, animal friendly, healthier, and safer than conventional meat. The paper elaborates different reactions of experts and stakeholders from science, civil society, economy, and politics to the innovators' reasoning. The semi-structured interviews were conducted for the project "Visions of in vitro meat. Analysis of technical and societal aspects and visions of in vitro meat" (VIF) funded by the German Ministry of Education and Research. In this paper we will show how our interview partners positioned themselves in relation to the innovators' vision on IVM and which other visions they brought into the discussion about IVM and the future of meat. The project was based on a concept of visions as socio-epistemic practices that are increasingly recognised as important elements in innovation and transformation processes. The analysis of these visions conducted in interviews with experts and stakeholders provided new knowledge for the conceptualisation and appraisal of in vitro meat beyond the innovators' rhetoric.