2015 | OriginalPaper | Buchkapitel
Visitor Attraction Management: Is There Space for New Thinking Despite the Crisis? The Cases of Buckingham Palace and the Museum of Acropolis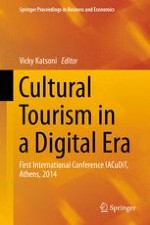 Erstes Kapitel lesen
Autoren: G. Aspridis, L. Sdrolias, Th. Kimeris, D. Kyriakou, I. Grigoriou
Abstract
In the era of globalisation and economic crisis, an alarming issue has been raised in relation with the tourism product offered to visitors. Specifically, historical and important from a cultural perspective places are being severely affected by the latest socioeconomic evolutions and consist the first victims of these. Historically, visitor attraction management was neglected but during the last years it has emerged as an essential and vital means of survival for places, sometimes even countries.
The attractions sector is vital to the success of the Greek tourism industry. However, attraction managers today face a wide range of challenges, opportunities and threats, that will determine the future success of the sector. For example, for attractions which successfully embrace new technologies—such as Virtual Reality and the Internet—these technologies are an opportunity to achieve competitive advantage. Additionally, there is a need for the sector to become more cohesive and speak with one voice, so it can have greater influence on the government policy-making process and resulting legislation affecting the industry. Moreover, Greek attraction managers can learn a lot from successful foreign practices: from design and marketing, to catering and providing for disabled visitors.
Aim and main focus of this article lies on the opportunities that existing socioeconomic conditions have created by utilising a diverse way of thinking that could lead to the light at the end of the tunnel. Our study will explore the different strategies followed by Buckingham Palace and the Museum of Acropolis and how these paths led them to capitalise as well as drive them to success despite of the crisis. From a methodological approach, this study will utilise interviews and questionnaires with professionals who occupy themselves with these strategies as well as utilising all existing theoretical background on the subject.
Finally, within Greece, the government needs to take action to create a more level playing field for attraction operators. Subsidies to major national museums and huge National Lottery grants for new projects are probably 'unfair' competition for most small attractions.