01.04.2015 | Ausgabe 2/2015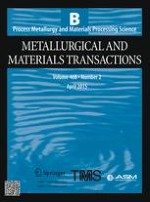 Visualization of Liquid Metal Two-phase Flows in a Physical Model of the Continuous Casting Process of Steel
Zeitschrift:
Autoren:

Klaus Timmel, Natalia Shevchenko, Michael Röder, Marc Anderhuber, Pascal Gardin, Sven Eckert, Gunter Gerbeth
Wichtige Hinweise
Manuscript submitted September 17, 2014.
Abstract
We present an experimental study concerned with investigations of the two-phase flow in a mock-up of the continuous casting process of steel. A specific experimental facility was designed and constructed at HZDR for visualizing liquid metal two-phase flows in the mold and the submerged entry nozzle (SEN) by means of X-ray radioscopy. This setup operates with the low melting, eutectic alloy GaInSn as model liquid. The argon gas is injected through the tip of the stopper rod into the liquid metal flow. The system operates continuously under isothermal conditions. First results will be presented here revealing complex flow structures in the SEN widely differing from a homogeneously dispersed bubbly flow. The patterns are mainly dominated by large bubbles and large-area detachments of the liquid metal flow from the inner nozzle wall. Various flow regimes can be distinguished depending on the ratio between the liquid and the gas flow rate. Smaller gas bubbles are produced by strong shear flows near the nozzle ports. The small bubbles are entrained by the submerged jet and mainly entrapped by the lower circulation roll in the mold. Larger bubbles develop by coalescence and ascend toward the free surface.