16.01.2017 | Ausgabe 1/2017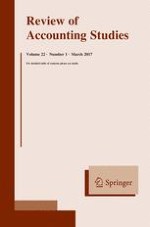 Voluntary fair value disclosures beyond SFAS 157's three-level estimates
Zeitschrift:
Autoren:

Sung Gon Chung, Beng Wee Goh, Jeffrey Ng, Kevin Ow Yong
Wichtige Hinweise
We wish to thank Kristian Allee, Mary Barth, Holger Erchinger, Jim Leisenring, Tom Linsmeier, Andrew McMartin, Tricia O'Malley, Jonathan Rogers, Katherine Schipper, Holly Skaife, Donna Street, and participants at the IAAER Standard Setting Process workshops in Palm Springs and London, the 11th World Congress of Accounting Educators and Researchers, the 2011 American Accounting Association Annual Meeting, the 2011 Canadian Accounting Association Annual Meeting, the 2011 European Accounting Association Annual Congress, the 2015 SMU/SNU/KAIST/Korea/Yonsei Five School Conference, the 2016 FARS Midyear Meeting, Chinese University of Hong Kong, Hong Kong Polytechnic University, MIT, Peking University, Sun Yat-sen University and the University of Rochester for helpful comments and suggestions. We are grateful for the generous funding support from the International Association for Accounting Education and Research (IAAER), the KPMG Foundation, MIT and the School of Accountancy Research Center (SOAR) at Singapore Management University.
Abstract
Some firms voluntarily make disclosures about the controls and processes in place to ensure the reliability of fair value estimates. Consistent with these disclosures being driven by investors' concerns about the reliability of their SFAS 157 estimates, we find that firms with more opaque estimates are more likely to provide such disclosures. We then examine whether these disclosures improve investors' perception about the reliability of fair value estimates. We find that they are associated with higher market pricing and lower information risk for Level 3 estimates. Further analyses of the disclosures reveal that the following types of information are particularly important to investors: discussion of the external and independent pricing of fair value estimates and their proper classification according to the SFAS 157 hierarchy. Overall, our results suggest that the voluntary reliability disclosures that firms provide beyond SFAS 157's three-level estimates help reduce investors' uncertainty toward the more opaque fair value estimates.