2006 | OriginalPaper | Buchkapitel
Vulnerability assessment for pipelines under permanent ground deformations. Comparison between analytical and empirical approaches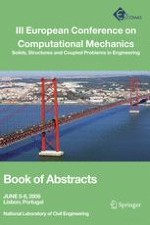 Erstes Kapitel lesen
Autoren: V. Terzi, M. Alexoudi, K. Pitilakis, Th. Hatzigogos
Verlag: Springer Netherlands
The seismic assessment of pipelines is a trigging issue due to their spatial distribution, their individual characteristics and the several uncertainties that are associated with the seismic response. In order to access pipeline damage, it is necessary to develop methods for seismic risk analysis based on the generation of fragility curves. This paper provides both analytical and empirical fragility curves validated in a specific water system. Although, Lefkas water system was rather well designed and maintained network constructed with modern regulations, faced several failures in water mains and in service connections as a result of Lefkas earthquake (14-8-2003, Ms=6.4, Greece). The main reason of such failures was the large permanent deformations (settlements, lateral spreads) especially in the coastline where continuous pipes where placed.
The originality of the present research is a comparison between the obtained analytical fragility curves for continuous pipes with advanced FEM analyses and the empirical fragility curve obtained by the statistical elaboration of real recorded data based on Lefkas earthquake. The proposed fragility curves connect Repair Rate/km, a vulnerability index, with permanent ground deformation for different types of pipeline configuration. The information gathered for Lefkas water network (type, diameter, joint type, type of damage) was analyzed in GIS, creating the first, as far as we know, pipeline damage database and empirical fragility relation in Europe. The damage state of the pipes was defined empirically. Analytically, the modeling of the pipelines as well as the surrounding soil was achieved by the use of the finite element program ADINA. Concerning the pipes, 3D beam elements were used functioning under inelastic material laws and uncertainties issues of loading conditions were faced by different loadings configuration (X.Liu and M.O'Rourke,1997b). Soil - structure interaction effects were accounted by introducing simplified soil impedance functions in the form of spring elements as well as 3D finite elements. The analyses concern static analyses. Using the FEM approach, damage state was defined by the existence of plastic hinges.
The final result of this research is the selection of the optimum load configuration that gives the corresponding result in the vulnerability assessment of water pipes compared with empirical data. After the validation with Lefkas earthquake, a series of parametric finite element analyses with different pipelines construction characteristics, diameter and material type took place in order to improve existing or proposed new fragility curves.