01.02.2013 | Ausgabe 1/2013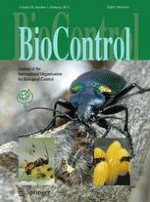 Vulnerability window for laying male eggs and superparasitism in producing female offspring of
Encarsia sophia

on

Bemisia tabaci

B biotype
Zeitschrift:
Autoren:

Ting-Hui Chen, Min Li, Ji-Hong Wang, Fan Zhang, Yuan-Xi Li
Wichtige Hinweise
Handling Editor: Torsten Meiners
Abstract
Encarsia sophia
(Girault & Dodd) (Hymenoptera: Aphelinidae) is an autoparasitoid that produces male offspring by laying unfertilized eggs in conspecific or heterospecific immature parasitoids at a particular stage of development known as the "vulnerability window". In the work discussed in this paper, the early vulnerability window in which parasitoid wasps lay unfertilized eggs was determined by exposing parasitized
Bemisia tabaci
(Gennadius) (Homoptera: Aleyrodidae) nymphs to female
E. sophia
wasps at 12-h intervals. Because superparasitism affected the results of mass-rearing of parasitoids, especially for autoparasitoids, the effects of superparasitism on development time for female offspring were investigated. Furthermore, the effects of the ratio of wasps to nymphs and the effects of inoculation interval on superparasitism were also determined. The superparasitization behavior was observed in the laboratory. Results indicated that female wasps could produce male offspring in nymphs that had been parasitized five days previously. Wasp offspring were 40.54 and 59.42 % male when exposed nymphs were parasitized 5 and 5.5 days previously, respectively. Superparasitism significantly prolonged the duration of development of female offspring, which increased from 11.5 days for one parasitization to 15.8 days for three parasitizations. Exposure interval also affected superparasitism: when the interval was increased from 0 to 96 h, superparasitism decreased from 70.0 to 23.8 %. With increasing parasitization, the time wasps spent on internal probing plus oviposition increased from 147.4 s for the first parasitization of nymphs to 285.4 s for the third parasitization, whereas there was no significant difference in the time wasps spent on external inspection of nymphs that had been parasitized one, two, or three times. When the ratio of wasps to nymphs was increased from 1:10 to 5:10, superparasitism increased from 0.4 to 46.4 %.