01.08.2016 | Ausgabe 2/2016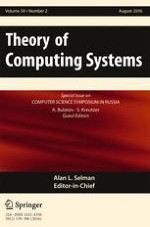 Walking on Data Words
Zeitschrift:
Autoren:

Amaldev Manuel, Anca Muscholl, Gabriele Puppis
Wichtige Hinweise
This research has received funding from the ANR project 2010 BLANC 0202 01 FREC and from the European Union's Seventh Framework Programme (FP7/2007-2013) under grant agreement n. 259454.
Abstract
Data words are words with additional edges that connect pairs of positions carrying the same data value. We consider a natural model of automaton walking on data words, called Data Walking Automaton, and study its closure properties, expressiveness, and the complexity of some basic decision problems. Specifically, we show that the class of deterministic Data Walking Automata is closed under all Boolean operations, and that the class of non-deterministic Data Walking Automata has decidable emptiness, universality, and containment problems. We also prove that deterministic Data Walking Automata are strictly less expressive than non-deterministic Data Walking Automata, which in turn are captured by Class Memory Automata.