27.10.2017 | Original | Ausgabe 2/2018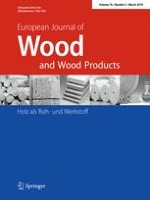 Water absorption and termite attack on a Kraft paper-based composite treated with recycled polystyrene and three commercial resins
Zeitschrift:
Autoren:

M. Jiménez-Francisco, R. H. Cruz-Estrada, J. G. Carrillo
Abstract
Lignocellulosic–plastic composites are materials widely used in the construction industry; however, their mechanical performance and durability constitutes a serious issue due to the nature of the lignocellulosic component which makes it prone to biological degradation. This article gives account of the protective performance of a novel eco-friendly solvent based coating obtained from recycled expanded polystyrene dissolved with Limonene, and three different coating systems used generally for outside wood protection, applied on a Kraft paper for potential structural use. Three aspects were evaluated, namely coating interaction with the lignocellulosic substrate, water absorption and resistance to
Nasutitermes corniger
termite attack. Scanning electron microscopy revealed two types of interaction namely—adsorption and absorption—of the coatings systems in the fibrous structure. Coating absorption revealed better protection for water absorptiveness of the paper structure. After biotic exposure, sample weight loss and damaged structure were observed, highlighting the aggressiveness of this type of termites which attack any kind of material studied here, in order to reach their food source.