2003 | OriginalPaper | Buchkapitel
Water Accords in the Middle East Peace Process: Moving towards Cooperation?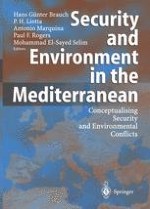 Erstes Kapitel lesen
Autor: Ines Dombrowsky
Verlag: Springer Berlin Heidelberg
Enthalten in: Professional Book Archive
Given the water scarcity in the Middle East, the Jordan River as well the West Bank Mountain Aquifer are prime examples of internationally shared water resources that hold the potential for conflict. The last century witnessed substantial tension among the co-riparian states and included skirmishes over water (Wolf/Ross 1992; Reguer 1993; Lowi 1995). Between 1950 and 1990, the U.S. government attempted to mediate a number of water disputes with limited success. By the early 1990's, no water agreements existed between Israel and its neighbours, and the de facto water use regime was heavily disputed. During the course of the Middle East peace talks, several agreements were concluded which contain provisions on water, notably the Israeli-Jordanian peace treaty of 1994 and the Interim (Oslo B) Agreement between Israelis and Palestinians of 1995. In addition, in 1996, a trilateral Declaration of Principles for cooperation on water-related matters was signed by Israel, Jordan, and the Palestinian Authority.